Thank you!
We look forward to seeing you at our fall event, the Pie Give-Back, showing appreciation for the many supporters of 'Life Just Right' and the work we do. It's an opportunity for you to be side-by-side the heart of our client community, many of whom you know and some you may enjoy meeting. Fun...Food...Friends...Giving Back.
Jen and I and the whole team will be saying thank you, partnering with a phenomenal local food pantry in the spirit of GIVING.
Please bring canned goods or dry goods. (list below)
Thank you to
Touchstone Closing and Escrow, Jack O'Donohue and Stephen Bernard
First Choice Loan Services Inc., Arthur McCue
for their support and exceptional real estate related services.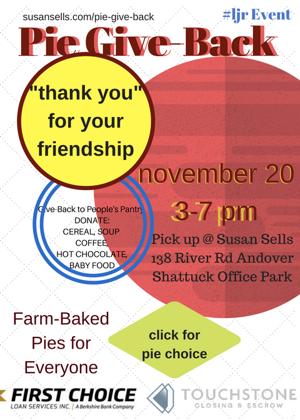 Our last Life Just Right Event, Octoberfest, was a great event made special because of people like you. People connected, re-connected, there were games and more.

Through your support, we were able to send money to the desperately needy areas impacted by the hurricanes.

A 'life just right' event is special because it's a fun event

that assures our work in real estate is a GIVING business that gives-back, inspires and influences, makes a difference and lives in GENEROSITY.

Thank you again.